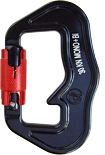 Snaplock
Thomas Finsterwalder's innovative karabiner design!
By request of several paraglider- and harness manufacturers, we have developed a lightweight and easy to operate paragliding karabiner with a conventional twist-lock, whose fatigue strength meets the test specification of a DHV-authorized testing institute. This specification is based on the karabiner load during flight, which was ascertained by the DHV in tests, and requires a proof of fatigue strength for a period of 5 years, allowing for safety factors which are common in engineering. Up to now, this proof has not been shown by any other karabiner manufacturer.




free*spee 2.0 speedsystem
The newly developed speedsystem by free*spee now allows the paraglider pilot to optimally adjust the length of the speedpedal also during flight - by a weight of only 80 g!




Charly Breeze
Our freestyle-paragliding helmet with removable ear pads and silky shining rubber coating!




Air Control Carbon
Our extra-comfortable and well-priced paragliding jethelmets are also available in an exclusive fullcarbon-look.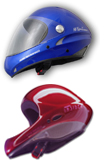 Charly No Limit /
Charly Insider
Our two top-of-the line models are not only ranking among the top-selling aviation helmets worldwide, but also enjoy a growing popularity with other extreme athletes like downhill-skateboarders or kitebuggy-pilots!




Karabiner problems
Term of the proof of fatigue endurance of karabiners expired.
Presentation of the fatigue endurance tests.
How does the DHV react?
» DHV-Hearing (PDF 150 KB)
» What about the test reports of the karabiner manufacturers (PDF 38 KB)
» Test report of Sincotec (german!) (PDF 423 KB)
» More info about further breakages
» Provisional karabiner safety check: Practical realization (PDF 151 KB)
» Background knowledge (PDF 268 KB)
» The Pin Lock karabiner in the test report of Sincotec (german!) (PDF 112 KB)




Mini brake-handle swivels
Developed by Finsterwalder for paraglider manufacturers.
Annoying twisting and curling of the paraglider brake lines can be avoided by the use of swivels. The company Advance has successfully deployed such swivels fo quite some time.
Also available in the webshop for knotting in the steering lines.






New Catalogue No 20
The english version of our brandnew airsport equipment general catalogue on 26 pages can be downloaded here for free.
» ...download (PDF 5.6 MB)




Film Premiere!
The Charly PG harnesses Mission, Globe, One, and Titan 3, as well as the new lightweight rescue system Charly Experts 120 are now shown and explained in short videotours on the Charly Channel on YouTube.
» ...go to the videotours! (external link)




Charly Globe
Robust, light-weight and comfortable reversible harness with impact pressure protector and newly developed C.I.S. bilateral valve system for faster and safer filling and improved sealing of the airbag.



Charly One
Our new ultra-light (1.9 kg incl. DHV-tested protector) reversible harness combines a full-fledged alpine backpack and first-class flying comfort in one product!




Haglöfs Helix
The new Haglöfs Helix is a paraglider glove of the luxury class.

A hightech material mixture ensures warmth, breathability, durability, flexibility and a great grip.




Rotor harnesses Vulto, Vulto S & Havana
"Gütesiegel" tests passed!
The harnesses of the brasilian world class pilot Nene Rotor are second to none when it comes to aerodynamic quality, comfort and innovative details.
Charly Best of Air is the agent abroad...




Download-area
Check out the test reports of our "Fexes" and other useful stuff in the download-area!




Bertoni Anti Fog
Designed for airsport. No limitation of visual field. Distortion-free 2 mm polycarbonate-glasses, 100% UV-protection, anti-scratch, incl. microfiber-bag.